Much has been said about the entry fee to see "Yayoi Kusama: Infinity Mirrors," the artist's first major retrospective in the Northern Hemisphere in decades. Although free when it premiered in February at the Hirshhorn Museum and Sculpture Garden in Washington, D.C., the tour is anything but. Advance tickets to the exhibition, currently in Seattle, quickly sold out in two waves at $34.95 a pop. When it moves in October to the Broad in Los Angeles, "Infinity Mirrors" will cost $25 presale—starting on Sept. 1 at noon local time; don't be late—and jump to $30 for a limited number at the door.
Variously described in the U.S. as "astounding," "eye-popping," and "intriguing," the views on the entry prices could very well describe the artist herself. Kusama has battled stereotypes her entire life, as well as her own internal demons. She started experiencing sometimes crippling hallucinations as a 10-year-old living in rural Japan. They'd go on to shape her work over the course of eight decades and propel her to global fame.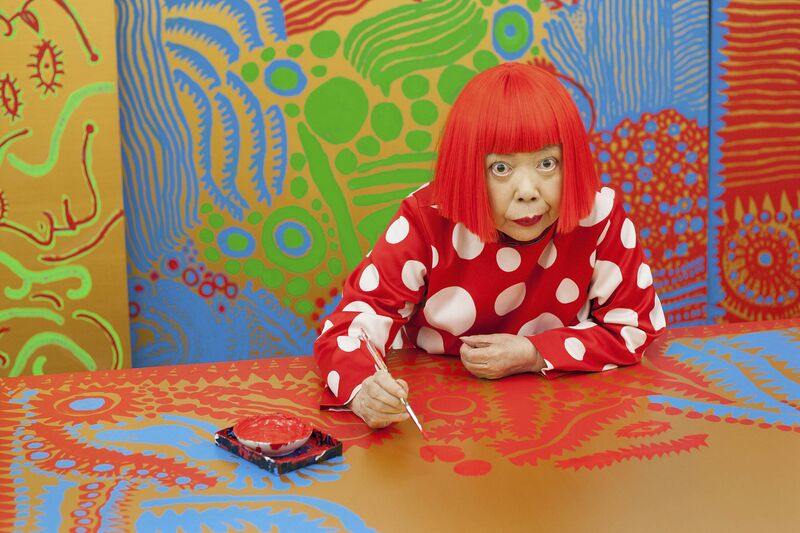 But she didn't know any of that then. Replicating polka dots with obsession was Kusama's way of making sense of her neuroses and escaping a difficult childhood.
The avant-garde artist is difficult to categorize. She's famous for her paintings of polka dots, pumpkins, and nets (one sold for $7.1 million in 2014) but has also created fashion lines, designed music videos for pop stars, and staged public interpretive dance "happenings."
"She's somebody who kind of rode every wave but has remained absolutely on top and uniquely herself," Frances Morris, director at London's Tate Modern tells Bloomberg's Brilliant Ideas. "Although she's associated with surrealism, pop, and performance, she can't be confined to any recognizable category in art," Morris says. "She's definitely one of the 20th and 21st century's truly unique artists."
Despite her illness—or perhaps because of it—she remains prolific even as she approaches 90. Kusama voluntarily lives in a psychiatric hospital in Tokyo, where she handcrafts hundreds of pieces for exhibitions all around the world.
"Yayoi Kusama: Infinity Mirrors" is making its way across the U.S. and Canada this summer and features a series of rooms, in which a lifetime of the artist's drawings, paintings, and ephemera are reflected by mirrors, ostensibly to infinity. Get that camera ready. -Bloomberg