MPs are preparing to vote on whether to back Theresa May's deal for leaving the European Union.
The so-called "meaningful vote" will take place later as five days of debate on Brexit come to an end.
Mrs May has called for politicians to back her deal or risk "letting the British people down".
But with many of her own MPs expected to join opposition parties to vote against the deal, it is widely expected to be defeated.
MPs will also be able to suggest amendments that could reshape the dealbefore voting starts at around 19:00 GMT.
The prime minister addressed her backbench MPs on Monday evening in a final attempt to win support for her deal – which includes both the withdrawal agreement on the terms on which the UK leaves the EU and a political declaration for the future relationship.
Earlier in the Commons, she said: "It is not perfect but when the history books are written, people will look at the decision of this House and ask, 'Did we deliver on the country's vote to leave the EU, did we safeguard our economy, security or union or did we let the British people down?'"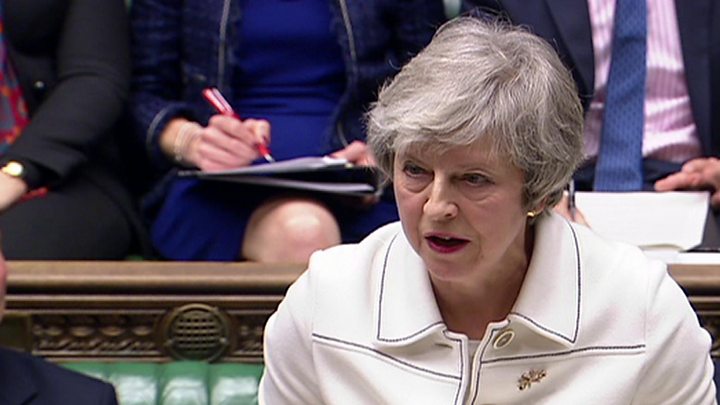 Mrs May also tried to reassure MPs over the controversial Northern Irish "backstop" – the fallback plan to avoid any return to physical border checks between the country and Ireland.
She pointed to new written assurances from the EU that the contingency customs arrangement being proposed would be temporary and, if triggered, would last for "the shortest possible period".
Mrs May will address her cabinet on Tuesday morning, before the debate resumes at lunchtime.
But many Tory MPs and the Democratic Unionists remain adamantly opposed to the deal.
About 100 Conservative MPs – and the Democratic Unionist Party's 10 MPs – could join Labour and the other opposition parties to vote it down.
Former Brexit secretary Dominic Raab said that Brexiteers like him could back a deal if aspects such as the backstop were dealt with.
He told BBC Radio 4's Today programme the EU had played "a smart game of hard ball" and said it was time for the UK to do the same.